There is an International community that has experienced the greatest match since 1965!
How many are the members of this football supporters popular movement: 5, 7, 10 or 50 million? They are also known as the best audience for the so called Public Service because they are used to watch TV in its primitive form without aid of the media tycoon also known as the Public Enemy! Let's go scrolling the statistics issued about the Italian public TV audience during the recent matches of the UEFA Champions League... (Sorry guys, this is not the BBC, this is the RAI TV! And a public corporation has an obligation to remain impartial in its reporting):

Bayern-Inter (11.508)ª
Barcelona-Inter (10.034)
Inter-Barcelona (9.073)
Inter-Chelsea (6.694)
Inter-CSKA (6.155)

(ª Data in million viewers, Feb-May 2010.
The Champions League final has got 180 million viewers worldwide. It has been valued a business of 351 million euro).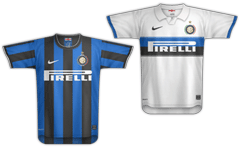 In the middle of that audience you should find the veterans, people classified from 60 to 80 years old and more, whose memory has run as fast as furious back into the '60s wherever they had seen the first or second European cup firmly in the hands of captain, president or coach at the end of the finals. During a warm and evocative Saturday night they have been watching towards their modern tv set but really reviewing and linking several images on a personal album as long as a lifespan usually should be. An album that goes from the past pictured in Vienna or Milan until the present in Madrid 2010. All those impressions are emotionally ending into a great-ears-shaped pot. Flowers and tulips inside it...
Meanwhile the youngest fans are invading the streets and places and much more. The day after the 22nd May the official FC website registered 1,137,560 unique visitors viewing 5,859,974 pages! The online store collected up 8,004 orders for 440,000 euro of total spending.
Si nosotros no somos nada...Un, dos, tres!

II. Entropy.
Here I would like to remember Bob Noorda, born in the Netherlands, who lived and worked mainly in Italy. It's from a real working life episode.
The meetings were always in Milan where the office of Mr. Noorda was located. We came there in a complete squad of four product managers and the marketing manager. We came across as oddball to him. The object of that travelling was working out a meaningful project to revamp the packaging for a private label assortment as wide as 400 items well sold into Italian supermarkets and hypermarkets (www.e-coop.it).
For us Mr. Noorda was something of an institution in his field --he was already the designer of the corporate logo-- so he led that dialogue with the marketing fouls with no problem.
Often he was going to express the concept with the pencil on a sheet and this was obviously the best moment for holding his teaching in my mind. As graphic designer able to apply a professional method of work, he was expressing a logical flow of propositions by means of simple signs and concepts.
We are chaos and disorder for his visual method because we are the proponents of the usual codes of packaging (from colors to images to lettering) well known and appreciated by heavy consumers of a certain product category.
But in the mind of a master of corporate identity, the brand comes before everything else and anything goes for it... In the specific case, Mr. Noorda wanted to extend the positive values of that familiar chain logo until the products sold on the shelves. Later that idea was actually realized through the representation of the products content on box, bottles, cans, or every other container we were dealing with.
Mr. Noorda did a great conceptual work and we followed up that briefing, more vocal than written, by translating the inspirational notion from a designer into the label of all products composing the assortment of those years.
I have now the true sensation Mr. Noorda put transparency and a higher rate of information for the consumer inside a large variety of many different products made and marketed under the same brand name.
(I have personally tried putting his teaching into practice when I designed a simple mark for www.dmlr.org.)


PS. Bob Noorda, an internationally known graphic designer who helped introduce a Modernist look to advertising posters, corporate logos and, in the 1960s, the entire New York City subway system, died on Jan.11 in Milan, his adopted city. He was 82. (From www.nytimes.com)

III. Wired!

What is doing Samuel Eto'o photographed on the cover of Wired Italia? He is the ideal medium between Europe and South Africa in the year of the World Cup... because he's one of the most winning footballers of the European Clubs --specialized in treble-- and probably the most representitive football player for Africa. Since the Soccer City Stadium will be hosting the final (July 11th) and has been built close to Johannesburg's township, maybe he's a destiny man. If the Cameroon team will be winning there just this year... well they would rename that place SOWETO'O!
Vuvuzela playing is not a disturb for this top player whose strikes have been shaking the goals of the major stadiums of Spain and Italy... He knows well both the racism when the fans are stupid and the pañolada when the fans are unsatisfied --or maybe elderly people rule the stadium. You could visit his today home stadium and try being seated at the 3rd ring/red zone. Where it's easy to understand the football game will be played by 11 versus 11 and nobody can win alone. Eto'o is indeed considered an ideal teamplayer and undisputed champion. A key figure for a united Africa beyond sport.
En Afrique, un ballon peut suffire à réunir tout le monde. Et certains explosent, comme Samuel Eto'o (testimonial for Puma.com).
IV. State/Stadium.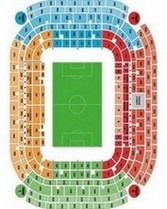 This 32-team World Cup edition has stirred up all researchers and economists around the State of the World (O Estado do Mundo). And the following review is the best result of those studies we have been reading during the week before that competition's kick off... It says that the Gross National Product don't help win the cup while a bunch of great players help the fellow countrymen withstand a very low GNP. Finally the list help find your betting profile (A for Low-Risk or B for High-Risk) as follows
A) focus on the best ten nations by GNP (per-capita) where you surely find the next winning national team; so you bet on one of these country according to your pocket money;
B) focus on the last five nations by GNP where you probably find the best surprise of the tournament; so you bet on one of these countries best placement, at your own risk but aware of going to increase greatly your personal income!

.NL (15.0 as winner quote)
.US (75.0)
.FR (20.0)
.DE (15.0)
.UKª (7.00)
.CH (250)
.AU (150)
.JP (300)
.BR (5.50)
.DK (100)
.ES (5.50)
.GR (150)
.IT (13.0)
.SI (250)
.NZ (500)
.PT (30.0)
.KR (300)
.SK (150)
.MX (100)
.CL (50.0)
.UY (100)
.AR (7.50)
.YU (65.0)
.ZA (75.0)
.DZ (250)
.PY (75.0)
.HN (500)
.CI (25.0)
.NG (100)
.CM (100)
.GH (75.0)
.KP (500)
(Foot-note: each country listed by top-level domain name and ordered by 2008 GNP; quote from Better.it. ªEngland here as .UK).
A different approach to the World Cup is that of considering this 2.4 billion US$ sponsorship event a business venture. An interesting job is classifying the national teams according to the capitalization of their single players. The value of the first ten national teams is important to get the real knowledge of the favorite teams for going home with the 100,000 Swiss Fr cup...

ESPAÑA (303m)
ARGENTINA (293m)
ENGLAND (266m)
BRAZIL (223 m)
PORTUGAL (201m)
FRANCE (180m)
DEUTSCHLAND (156m)
NEDERLAND (156m)
COTE D'IVOIRE (130m)
ITALIA (127m)
(Foot-note: data in Euro by FrontierEconomics).


After this analysis on the State of the World, a final geo-political question. Is there in the world another country as symbolic as SouthAfrica in order to be reconcilied with the Oranges? Claro que no. Or would you like to get back in 1978? Claro que no. Gracias por todo, balon, pequeña cosa!
Number, 46664.com
Education, Join1goal.org
Waka Waka, Shakira.com
SA+Bros., MTNfootball.com
P.S. You ought to change some names, the result is always N.E.W.$.!
V. Direct Marketing.
The DIRECT MARKETING glossary is available on DMLR in a 3-document edition (PDF) you can browse here or easily download onto your desktop. It consists of 19 pages as a whole, 311 paragraphs/terms, 236 Kb, 7450 words, 44772 types!
Select and print the three parts of the glossary in English from PDF::Menu.
Sure the Internet has been changing the traditional snail-mail and telephone based direct marketing. And yet the Internet marketing is a consequence of the old direct marketing techniques. Many terms you'll find inside the DM glossary are suiting for the e-mail marketing too.
VI. Linked Resources.
WARNING! If you are more than 65 you are probably not connected...
Since 2007 the WAI-AGE project has been delivering inclusive access for disabled or elderly members of the community in the EU countries.
WAI is for Web Accessibility Initiative, Age is for Ageing, Education and Harmonization.
Their programs consist in
-- up to date information on guidelines and resources aiming to elderly people across Europe
-- reporting work in progress by W3 to know the needs of the disabled and elderly people
-- helping developers in assistive technologies and designing in order to realize a more accessible Web environment
-- distributing resources to organizations of elderly communities to enhance the web accessibility
-- promoting the dialogue between associations for elderly members and institutions or decision makers.
Where's WAI? Visit www.w3.org/WAI/WAI-AGE/

VII. You&Quiz